Check Out These Great
COWBOY COOKBOOKS
Your cowhands hungry for some real old west cooking? Well, here's a selection of Cowboy Cookbooks that will make you the hit of the campfire.


Skillet Bread, Sourdough and Chuckwagons
by: Loretta Frances Ichord, Jan Davey Ellis (Illustrator)
Children's Cookbook - Hardcover, January 2003
Age Range : 10 to young adult
Here is a look at what was eaten in the American West by pioneers on the trail, cowboys on cattle drives, and gold miners in California camps. Ingredients, cooking methods, and equipment are all discussed. There are recipes, cooking directions and other information about the times, places and events. The illustrations are well displayed and definitely create an interest in picking up the book.

Skillet Bread, Sourdough and Chuckwagons
---
Cowboys and Cookouts: Recipes from the Range
by: Lewis Esson
American Cookbook - Hardcover, April 2003
The cowboy of the American West is one of the most memorable icons of the twentieth century. Cowboys and Cookouts reveals that this legendary figure's life was not always as exciting as the movies would have us believe. The terrain was inhospitable and dangerous, and the young cowhands were poorly paid and overworked. Meal times were eagerly anticipated as the highlight of their day, and the chuck wagon was home on a lonely cattle drive. Although the recipes in this fun little primer on campfire cooking won't sustain any serious back-to-nature types (where, for example, would you find Worcestershire sauce in the wilderness?), its considerable charm stems from Esson's efforts to retain for contemporary cooks the 19th-century culinary techniques utilized on the open range.

Cowboys and Cookouts: Recipes from the Range
---
The Cowboy Country Cookbook
by: David A. Poulsen, Lauren Hitchner, Barb Poulsen
American Cookbook - Paperback, February 1998
When Kit Carson lay dying, his famous last words were reputed to be, "I wish there was time for just one more bowl of chili". Whether fact or fantasy, the tale illustrates a truth about western life: Food was never far from the cowboy's mind. The Cowboy Country Cookbook celebrates the cuisine of the West with a unique selection of authentic range recipes culled from the cupboards of North America's famous and infamous ranchers, western restaurateurs, cowboy poets, country music entertainers and rodeo champions. There's everything from Wrangler's Chicken Wings and Sock Coffee to Fried Chicken and Biscuits. Sprinkled with cowboy sayings and lore, The Cowboy Country Cookbook is sure to whet the appetite of anyone who's ever longed for a good horse, a saddle and some down-home western dining.
---
Wild Wild West Cookbook: Cuisine from the Land of Cactus and Cowboys
by: Junior League of Odessa
American Cookbook - Hardcover, June 1991
A scrumptious cookbook celebrating the legendary cowboy through food, fun, and art. Specifically created to help the cook enjoy cooking as much as the folks enjoy eating. Cooking becomes a real adventure with authentic ranch recipes, southwest favorites, or some of Ma's staples. Hors d'oeuvre for any party, a chocolate lover's dream collection, and original artwork depicting the excitement of the legendary cowboy and the western era through vivid color.

Wild Wild West Cookbook: Cuisine from the Land of Cactus and Cowboys
---
The All-American Cowboy Cookbook: Home Cooking on the Range
by: Ken Beck, Jim Clark
American Cookbook - Paperback, September 1995
With favorite recipes from much-loved television and movie stars as well as from cowboys on working ranches, The All-American Cowboy Cookbook is a definitive look at home cooking on the range, featuring over 300 recipes--everything from quail to cheesecake. Trivia and photos of the contributing cowboy celebrities such as Roy Rogers, Gene Autry, John Wayne, and Clint Eastwood make the Cowboy Cookbook additionally interesting and entertaining. Makes a great gift.

The All-American Cowboy Cookbook: Home Cooking on the Range
---
Cowboy in the Kitchen: Reata Restaurant
by: Grady Spears, Wes Tucker
American Cookbook - Hardcover, December 1998
One of America's most traditional cuisines - the Texas ranch. But don't be thinking ribs, beans, and biscuits.unless of course, you're thinkin' South Texas Venison Ribs with Peanut Dipping Sauce, Black Bean Nachos with Chargrilled Chicken and West Texas Biscuit Pudding with Southern Comfort en Glace. You see, at the historic Reata ranch in West Texas, chef Grady Spears is cooking cowboy cuisine with an emphasis on the cuisine. Filled with fresh, strong flavors, fascinating ranch memorabilia (these Texans take their history seriously!), gorgeous full-color photography, and truly marvelous, utterly real food, this is American cooking at its kick-off-your-boots-and-get-down-to-business greatest.

Cowboy in the Kitchen: Reata Restaurant
---
Barbecue, Biscuits and Beans: Chuck Wagon Cooking
by: Bill Cauble, Cliff Teinert, Watt Casey,Jr. (Photographer)
American Cookbook - Hardcover, October 2002
In Barbecue Biscuits & Beans, using methods of Chuck Wagon Cooking to produce outstanding, wholesome meals, these two culinary cowboys present innovative ideas for cooking and entertaining, whether it be around a campfire, at a backyard barbecue, or for the most elegant black tie affair. Recipes are versatile, and easy to follow, and spotlight the flavors of the Southwest including Whole Beef Tenderloin; Dutch Oven Roast; Mesquite-Grilled Chicken; Stacked Red Chile Enchiladas; Sourdough Starter -- for bread, biscuits and delectable Fruited Sourdough Rolls; lots of beans; Cowboy Favorite Oven-Fried Potatoes; Fresh Green Chile Hominy; Cornbread Salad; Onion Cucumber Salad; a trio of Bread Puddings -- White Chocolate Almond, Lemon-Lime and Bourbon Sauced; Fresh Peach Pie and Cold-Oven Pound Cake.

Barbecue, Biscuits and Beans: Chuck Wagon Cooking
---
Texas Cowboy Cooking
by: Tom Perini, Foreword by Robert Duvall
American Cookbook - Hardcover, September 2001
Cowboy cooking isn't fancy, but once you've had the real thing you don't forget it. Tom Perini cut his teeth in the ranching business and accumulated the kind of cooking know-how and recipe arsenal that just can't be taught. His authentic "chuck" bridges the gap between life on the trail and in the backyard. From buttermilk pie and jalepeno cheesecake to Ranch-Roasted Ribeye to Tom's classic Bread Pudding with Whiskey Sauce, Texas Cowboy Cooking is chock full of recipes for everything from a light lunch to a holiday feast. And with each dish, he serves a generous helping of personality and more than a smattering of cowboy lore.
---
Billy the Kid Cook Book: Recipes and Folklore from Billy the Kid Country!
by: Lynn Nusom
American Cookbook - SPIRAL, February 1999
Over 100 recipes commemorating Billy the Kid's life in New Mexico, Arizona and Mexico. Appetizers, Stews, Soups, Mexican Dishes, Cowboy Vittles and much more! Filled with Old West trivia and lore, as well as stories about Billy the Kid's origins, adventures and exploits. Also includes information about cooking methods and food preparation in the Old West. Written by award-winning chef and food columnist Lynn Nusom.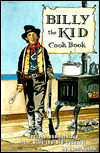 Billy the Kid Cook Book: Recipes and Folklore from Billy the Kid Country!
---
Cowboy Goremay: (From Hoof to Palate)
by: Bob E. Kinford, Barbara J. Kinford (Editor), James Dorrance (Illustrator)
American Cookbook - Paperback, September 2000
Real cowboys want real food and author Bob Kinford reveals the truth about cowboy cooking with recipes like 'Surf IN Turf','Blackberry Quiche' and 'Brandied Beef'. Recipes from the insanely simple to sublimely complex. Anyone who cooks (or likes cowboys) will get something from this little jewel!

Cowboy Goremay: (From Hoof to Palate)
---
Cowboy's Cookbook Rides Again
by: T. L. Bush, Erwin E. Smith
American Cookbook - Paperback, January 2000
T. L. "Bull" Bush knows how much cowboys appreciate satisfying, hearty food after a long day in the saddle. This real-life "cookie" serves you more than 60 of his favorite recipes and accompanies them with delightful side dishes of entertaining insights into authentic cowboy life. From 'Bull Rider's Steak' to 'Who the Hell Knows'(a custard-like dessert), you get simple, tried-and-true recipes to make a satisfying meal at the end of any trail ride. And Bush's fascinating anecdotes about life on the range add a lively commentary to this potful of true Americana.
---
The Wild West Cookbook
by: Cinda Chavich
American Cookbook - Paperback, September 1998
The hardworking cowboys of the Old West appreciated hearty eatin', and here is the book that proves it. Now, with The Wild West Cookbook, you can discover for yourself the flavorful, stick-to-your-ribs cooking that sustained generations of ranch hands from Abilene to the Calgary Stampede. Here you'll find 'Tequila Cheese Balls', 'Smoky Cowboy Quesadillas', as well as hearty soups such as 'Southwest Sopa with Crispy Tortillas'. And for great tasting main courses, choose from 'Wagon Boss Chili', 'Grilled Spring Chicken with Rhubarb Sauce', 'Flank Steak with Rye Whisky Marinade' or 'Texas-Style Barbecue Beef'. And what's a western meal without an old fashioned dessert? Try a helping of 'Wild Berry Shortcake'. The Wild West Cookbook brings you the original comfort food, with over 120 easy-to-prepare recipes. It also features a rich selection of contemporary cowboy images and historical anecdotes that will enhance your understanding and appreciation of the recipes. There is no better book for bringing home a taste of western cooking.
< < < the trail BACK . . . . . .






Grandma's Recipes = $$$